Hartman Creek State Park, just 3 miles down Rural Road, is having a Candlelight Ski and Hike tomorrow, January 26, from 5 to 8 p.m. Come for the fun and bring your skis and snowshoes! Over two miles of trail will be illuminated with candles to accommodate skiers, hikers and snowshoers. Come warm yourself in our heated shelter and enjoy cookies, coffee, hot cider and hot chocolate. A roaring bonfire and adjacent grill for cooking are also available. Hope to see you there! 5-8 p.m.
I just finished shoveling 4 inches of fresh powder this morning and put on my snowshoes to show you the beautiful scenery. Conditions should be great for the Candlelight Ski and Hike tomorrow. Robert and I will be there so we'd love to have you join us! There's room at the inn if you want to stay with us . . .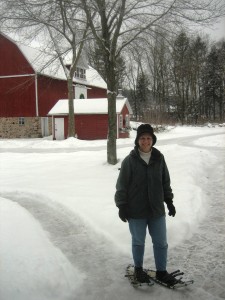 For more information on the Candlelight Ski and Hike call the Park at 715-258-2372 .